Kids English Program
3 hours per day
5 days each week
4 levels in 24 weeks from Beginner to Intermediate 
The age group for Kids English Program is 6 to 14 Years old
The Kids English Program has been designed for:
Kids who planning to join international school from non English-speaking backgrounds
Kids who are looking for short summer programs to improve their English
Kids who are looking to join their parents in English speaking country
| Level | Duration | CEFR Level |
| --- | --- | --- |
| | | |
| | | |
| | | |
| | | |
| Tuition Fees | 1 - 8 Weeks | 9 - 16 Weeks | 17 - 24 Weeks |
| --- | --- | --- | --- |
| | | | |
| Other Fees | Fees |
| --- | --- |
| | |
| | 200 RM - For Every 6 Weeks only |
| Other Fees | Books | Discription |
| --- | --- | --- |
| | | |
Join Awesome Today, Succeed Tomorrow
Enjoy learning English with kids from 57 countries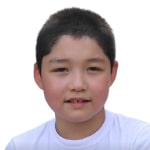 ALISHER
Alisher is 11 years old, bright, and full of energy boy from Almaty city. He came to study English with his beautiful mother Karlygash. They have combined learning a new language with their summer vocation in Malaysia. It was wonderful to see how Alisher became friends with his classmates from different countries and was practicing English not only in the class, but also while playing with kids outside the classroom. Alisher would wake up early in the morning and rush to attend his classes; as he shared with us later, it was because Awesome wasn't a boring school as others, and he had fun learning English.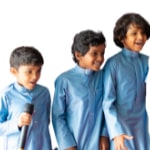 ALSAYEGH
Wonderful family of 4 boys, 7,8,9,12 years old, came to study English at Awesome with their amazing mother Aishah. Awesome provides a great opportunity for parents and children to study at the same time. Aishah was taking Intensive English Program, while her boys were attending Kids English Program. Knowing that her children are safe and happy and studying in the same building, allowed Aishah to concentrate on her studies worry free, since she could check on the kids during breaks. Both Aishah and boys made a lot of friends from different countries, with whom they are still in touch long after completion of the studies.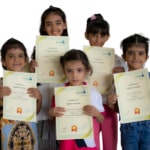 ALQAHTANI
The father of these beautiful 5 girls trusted their safety and education to Awesome, and they have studied at Kids English Program for 1 month. Every girl is unique and required different approach in order to help them benefit from the program and enjoy the process along the way. It is very important to first make children build a positive relationship with English language, and help them not only understand it's importance but inspire the desire to speak in English. We hope to see these beautiful princesses again in the future and teach them further up until they go to a university.
Frequently Asked Questions
When my child can start ?
Throughout the year, every Monday we have an intake, you may start your classes at any Monday.
Is 3 Hours study includes the break time?
No, Study hours + break time for Kids English Program is 3 Hours and 25 Minutes.
Your teachers are Highly qualified native American and British teachers.
How many students in the class?
Not more than 16 students per class